RED WEDDING - Interview
I first discovered the L.A.-band RED WEDDING some years ago, when I bought one of their records, which was liscensed from Bemisbrain Records to the very collectable early 80s French label L´Invitation Au Suicide. The music had a heavy New Wave feeling, but even showed influences from Punk to Gothic. In the early 80s, when RED WEDDING have been well-known in the L.A. underground scene, the music was mostly called Post-Punk, I think.
The band only released two 12"Eps and played a lot of shows.
By chance I got in contact with Michael and Spider, who now live in Arizona. They were so kind to answer some of my questions in mid 2002...
BACK AGAIN (BA): Can you give a SHORT introduction about your long lasting work? (A complete history about The Tracers, Hey Taxi and RED WEDDING can be read here: www.theoretical.com/redwedhome.html )
SPIDER: In 1979, Michael and I were in our first band together. It was a Pasadena based punk band called The Tracers. I was one of two guitar players and Michael sang back-up for a female singer named Lynn. We didn't stay long with The Tracers because there was tension between Michael and Lynn. I'm sure this was due to the fact that Michael was getting so much of the attention from audiences.
MICHAEL: Animosity aside, I will always be grateful to Lynn for inviting me to join the band. She was one of the first people to realize that there was a struggling performer inside of me waiting to get out. To this day, Lynn is still my favorite female punk rock singer. Her voice was so raw, so unadorned, and so real.
SPIDER: After Michael and I left The Tracers, we started our own band called Hey Taxi. Hey Taxi was a kick-ass little punk band, although the inside joke was that we were really more of an anti-punk band. We gained a lot of attention, primarily due to Michael's stage antics.
MICHAEL: It was in 1981 that Spider and I put together Red Wedding. We played our first gig at the now legionary Brave Dog Club that was located in the heart of downtown L.A., and we sort of became the house band. This was due in large part to the unwavering support we received from Jack and Claire, the Brave Dog owners.
BA: The Punk/New Wave/Underground scene always is called to be very tolerant, but in fact today's Punks are mostly the same way as their parents...has your homosexuality ever been a "problem" in this early California scene?
MICHAEL: Red Wedding was sometimes labelled a "gay band," but that was not entirely true. Although he is my soul-mate and partner in life, Spider is not really gay. Trust me, he doesn't have a single gay sensibility in his body. Spider is 100% bisexual, and he views the world through the eyes of a heterosexual. Also, both of the drummers in Red Wedding were straight, as was our second bass player. As for Marc, John and myself, yes, we were gay, but we didn't identify with the gay mainstream. We often referred to ourselves as "double outsiders."
SPIDER: For the most part, audiences were very supportive of Red Wedding. I think those who came to our live shows expecting to see a "gay band" were surprised to discover that, in spite of the theatrical and glam elements in Red Wedding, we were primarily a band that was fueled by a masculine energy.
MICHAEL: That's not to say that there were not people who talked about us behind our backs, or that we didn't experience our share of blatant homophobia (people can be very cruel), and I'm fairly convinced that the "gay" label kept the record companies away (after all, this was long before it was considered fashionable for gay performers to step out of the closet, especially rock musicians), but the truth is, Red Wedding really didn't give a fuck about what people thought of us. We were too busy running around town having a good time and seducing all the "straight" boys!…Okay, I'm not being totally honest here. Of course we gave a fuck. We wanted to be liked just like everyone else, and there were many times when we felt alone and alienated even within the underground music scene.
BA: Nearly everybody dreams of a "white Wedding", so why did you call your band RED WEDDING. Was it a kind of showing to be "different"?
MICHAEL: The name Red Wedding was loosely based on an old world custom in which blood-stained sheets were displayed from a window balcony in order to show people passing by that the bride was a virgin on her wedding night. Of course, I'm sure there were many instances where the bride was not a virgin, and animal blood was used…
BA: Why did you release only two EPs? Has no Label been interested in your music or haven't you been interested in releasing records, but prefer playing live? Are there any further recordings existing? Have you been on any Compilations?
SPIDER: The reason Red Wedding only released two EPs during the five years we were together is because we had no money and no support. To answer your second question, yes, there was a Red Wedding cut called "Swimming" on a compilation album released back in 1984 (Radio Tokyo Tapes 2).
MICHAEL: Spider and I stopped performing live many, many years ago. Who in their right mind would want to pay to see a couple of old farts like us on stage? There is no age limit when it comes to being an artist and creating new music, but there does come a time when rock performers need to step down gracefully from the stage. Rock 'n roll belongs to the young! I'm told that Patrick of Kommunity FK is still performing. I feel embarrassed for him. Do you have any idea how old he is under all that pancake makeup?
BA: Spider, you told me, that you personally knew all the people of early 80s bands like Kommunity FK, Nervous Gender and others, and that you could tell thousands of stories about this time...has your idea of writing a book about this period come to anything concrete yet?
SPIDER: Actually, Michael is more of the writer in the family.
MICHAEL: I suppose I could write a book about life in the early 80s L.A. underground music scene, but I don't think it would be very interesting. The truth is, the vast majority of those people (both on and off stage) were extremely jaded and led boring lives. True, everyone was running around doing drugs and having sex like rabbits, but who cares?
BA: Can you tell us a bit about your live show? Was it more punky than your records? Did you use any show elements or was it "pure" music?
SPIDER: Red Wedding had a very dark, intense presence on stage, and I think our live performances were slightly more hardcore than perhaps what is reflected in our recordings. However, we were not a punk band (nor was Christian Death, Red Hot Chili Peppers, Gary Numan, Ultravox, Bauhaus, Romeo Void, Bronski Beat, Kommunity FK, Wild Kingdom, U2, The Psychedelic Furs, Killing Joke, The Sisters of Mercy, Jane's Addiction, The Cure, and the list goes on and on…). Red Wedding was a "post punk" band. For Michael and I, the L.A. punk rock scene began and ended in the 70s. Yes, there were a zillion punk rock bands running around L.A. in the 80s, but for us it was old hat. There were notable exceptions such as Nervous Gender, but Nervous Gender was a band that played by their own set of rules and they were very experimental. I suppose today Red Wedding would be referred to as an "alternative band," but that term did not exist back in those days, nor did the term "Gothic." You know, when we first started Red Wedding, we endured a lot of flack from other bands and critics for daring to expand our music beyond the limited world of punk rock, but once audiences began to embrace us, it was somewhat amusing to see how quickly everyone began to jump on our bandwagon, and we were amazed to see the amount of punk bands that were suddenly changing their names exploring their gloomy, feminine sides (like when Smog Marines were suddenly transformed into Crown of Thorns)!
MICHAEL: The whole concept of Red Wedding was to create illusion, where nothing was as it appeared to be on the surface. We used every element and device known to man (including the kitchen sink) in order to confuse audiences, and yet I think we were a very honest band. If you looked closely under all the clutter, I think you would have seen that we were very real people acting out our rock 'n roll fantasies on stage for all the world to see.
SPIDER: Getting back to Red Wedding's recordings…It's important to note that both of Red Wedding's EPs were recorded on a very tight, shoestring budget, and we did not have the time for recording a lot of second takes, nor did we have the luxury of sitting back and analysing and reflecting on the sound we were creating. In fact, on our second EP, we were so pressed for time that Michael's vocals were all recorded in one take, and he was not able to listen back to his tracks until the following day while we were already in the process of mixing. To make things worse, the engineer accidentally erased several of Michael's vocal tracks for the songs "Bernardo" and "Satan in Cologne", and we didn't have the time or money to go back and re-record them. Considering all of this, I think Red Wedding's recordings are pretty damn incredible, and I'm very proud of our work, even though it may not always have been the exact sound we were shooting for.
MICHAEL: I'm still proud of our music too, and just for the record I'd like to say that, despite what it says in our bio, we did not hate our first record and Thom Wilson was a wonderful, inventive producer who was very warm and kind to us, and had we become a truly successful band, Thom would have been our first choice as a producer on all of our recordings.
BA: How did you come in contact with the French Label L´Invitation Au Suicide/New Rose, which released your first EP in Europe? Did you get any feedback about this release from the "old world"?
SPIDER: It is still is not very clear to me how our first EP ended up on the New Rose label. We certainly didn't get any money out of that deal!
MICHAEL: Yes, we've received lots of cool mail from our European friends. Sometimes I think Red Wedding would have faired much better at the time had we lived in Europe instead of L.A.
BA: How would you describe your music? In my opinion it neither is pure New Wave, nor Gothic or Punk, but it features elements of all these styles. Was it a problem, that you couldn't be categorized clearly?
SPIDER: Keep in mind that Michael and I were not exactly young pups when we started Red Wedding. We had already been around the block several times, and we had a lot of musical influences under our belt. In creating Red Wedding, we decided not to follow trends, and we combined all the different kinds of music we loved (glam rock, psychedelic rock, punk rock, trash rock, synth rock, pop rock, death rock, even a hint of funk) all into one band. It was this wide range of musical influences that allowed us to cultivate Red Wedding's chameleon-like reputation, as we were able to pick and choose which elements we wanted to focus on (and often exaggerate) from one performance to the next. Yes, this drove reviewers (who were all obsessed with labels back in those days) up a tree because they could not come up with an accurate label for us, but that was our exact intent. Did this work against us? Probably, but, again, it really didn't matter. Red Wedding was our expression; it wasn't created to make reviewers happy. To this day some people are still trying to get us to put a label on Red Wedding's music. I don't understand the need for this. After all, glam rock, punk rock, goth rock, grundge rock, its all nostalgia to me now.
MICHAEL: It's true. Because we combined so many different elements in Red Wedding, we drove reviewers crazy as they scrambled around trying to find ways to describe our music. One reviewer described us as "neo-psychedelic post-punk dream-like romantic trance music," while another reviewer described us as "imaginative, intelligent Rimbaud-goes-techno," while still another reviewer described us as "intense, dark, explosive, theatrical, romantic, hypnotic, disturbing, tragic and humorous all at once." Sometimes Red Wedding was compared and described in so many different ways that it was confusing even to us! Do you realize that just within the first year that Red Wedding was performing we were compared to The Doors, Roxy Music, Television, Jimi Hendrix, David Bowie, Devo, The Psychedelic Furs, The Rolling Stones, New York Dolls, Magazine, The Beatles and Xray Spex?!!! Some of these comparisons were totally bizarre to us.
SPIDER: Michael and I have always been open to all kinds of music from The Sex Pistols to Jimmy Reed. There was a time when we worried about what others would think based on the kind of music we listened to, but now I believe that people who are narrow-minded when it comes to music don't understand music at all. These days I'm a big fan of Chris Whitley (a brilliant guitarist and lyricist).
MICHAEL: I'm a big fan of The Strokes. I love their punk / trash rock inspired music, and I think the singer is a hot little fuck. I also like Calexico (whom I believe originally started here in Tucson), and I still like Jeff Buckley (may he rest in peace). Last, but not least, people always ask me if I'm still obsessed with Barbra. The answer is yes. I suppose it's a "gay" thing.
BA: What are you doing today? Do you have anything to do with the music business?
MICHAEL: Today we live in Southern Arizona. Spider is a jet mechanic and I'm a full time recluse. We are both desert rats.
SPIDER: We have our ups and downs and financial struggles like everybody else, but I'd have to say that life is really good for Michael and I right now. I think we've reached a stage in life where we are more comfortable and relaxed, a stage where we can stop to smell the roses once in a while and count our blessings.
BA: Are you still in contact with people from the old times?
MICHAEL: We turned our backs on L.A. long ago, but we are still in close contact with many of our friends from the old days. That is, those who are still alive….Unfortunately, many, many people from those days are now dead.
BA: What can we expect from Red Wedding in the future? Is there any chance of a re-release of the two Eps or even new material under this name?
SPIDER: We are working on putting together a CD collection of Red Wedding's work. It will contain several selections from our two EPs (including a restored version of "Bernardo"), unreleased recordings (including "Fiction Theater," the song that unconsciously inspired "Jane Says") and some early demos. I'm not sure exactly when this will be available. Michael and I are sort of lazy when it comes to these things. Also, unfortunately, we don't have the masters or even reel to reel tapes of most of our early recordings (including our first EP), so the real challenge is going to be how to enhance the sound quality of cassette tapes!
MICHAEL: Right now I'm more preoccupied with the new material that Spider and I have been working on (the first time we've worked on any music in years), thanks to our brand new, little computer studio (if only such technology had existed in the old days!). Our new material is a collection of soundscapes / movie music that is somewhat reminiscent of those old exotica records of Les Baxter, Arthur Lyman, Martin Denny and Yma Sumac, but with a very modern twist. I must say, it's pretty awesome stuff. When we are finished, we'll put it out on CD….if only to entertain our friends! We are also getting ready to collaborate with Edward (of Nervous Gender) and his wife Karene on some material (Edward and Karene are now creating interesting and original soundscapes along with poetry under the name of "Kali´s Thugs." Check out their CDs). The important think is that Spider and I have found an outlet for our creativity once again.
BA: Do you miss the "old times" or was it only one of many periods in your life?
SPIDER: I miss performing. I miss the energy of being around people.
MICHAEL: I don't miss performing at all. I hated being on display, and I hated having so many people in my face all at once. It caused me severe panic attacks; it's no secret I'm a wee bit mentally ill. I prefer living a low-key life.
BA: Anything I forgot to ask or anything, you want to tell our readers?
SPIDER: Try to be kind to each other.
MICHAEL: Don't eat animals. When you feed on animals, you are feeding on God, and when you feed on God, you are feeding on yourself. Peace and love! Namaste.
Thanx to Spider and Micahel for answering these questions and sorry for the long time, it needed to put the article online. Things are strange sometimes...
For more info about RED WEDDING and a lot of fine pictures visit www.theoretical.com/redwedhome.html , from where all the pictures have been taken. (A.P.)
REEL 2 REAL FEAT. THE MAD STUNTMAN - I Like To Move It
Erstveröffentlichung: Maxi-CD 1993 / Strictly Rhythm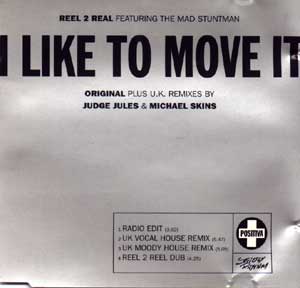 Ein ziemlich witziges Lied mit einem gelungenen Drumtrack und Gesang, der an gerollten Latino-Rap und Reggae erinnert. REEL 2 REAL ist im Grunde ERICK MORILLO, ein New Yorker DJ und hat für seine Szene einen Haufen Hits geschrieben. Mit "I Like TO Move It" hat er seinen wohl größten Hit geschrieben, den er zusammen mit THE MAD STUNTMAN, Mark Quashie aus Trinidad, produzierte. Das Lied ging um die Welt, wie man so schön sagt, und das Album folgte sogleich und wurde auch ein Hit. Das kurz darauf erschienene Album hat die Leute schon wieder weniger interessiert und im Grunde ist "I Like To Move It" der einzige wirkliche Hit des Projektes geblieben. Das Lied war übrigens vom 28.4.1994 bis zum 21.07.1994 in den deutschen Top 20 und kletterte bis auf Platz 3. Es gab auch eine deutsche Version, wo immer gesungen wurde "Ich lieb mein Moped Moped, ich lieb mein Moped Moped, ich lieb mein Moped Moped – Moped!". Von dem die war, kann ich aber leider beim besten Willen nicht mehr sagen. Und Ende der Neunziger gab es dann sogar noch mal einen Remix. (H.H.)

REFLECTION - Made In Hell
Erstveröffentlichung: CD 2004 / STF-Records / M-System
Nach einigen selbst produzierten Demos legt die deutsche Metal-Band REFLECTION auf STF-Records nun ihr Debutalbum vor. Wie man es von dem Label gewohnt ist, ist die Produktion recht gut gelungen und das Booklet sehr schön gestaltet. In diversen Metalmagazinen hat die CD zudem schon begeisterte Besprechungen bekommen. In den Besprechungen und im Waschzettel steht, dass die Band lupenreinen Trash-Metal spielt, was ich einfach mal so hinnehme, denn ich kenne mich da nicht wirklich gut aus. Auf jeden Fall beherrschen die Musiker ihre Instrumente sicher und die Songs knallen kraftvoll aus den Boxen, was live wahrscheinlich noch mal eine Spur heftiger ausfallen dürfte. Die Texte...nun ja, REFLECTION sind eine Metal-Band und verarbeiten größtenteils die typischen Themen. Da geht es gegen die Kirche und Religion allgemein, um die Vernichtung des Regenwaldes und um Wahnsinn.

Für Fans des Genres sicher eine lohnenswerte Platte, alleine schon wegen der Energie, die rüber gebracht wird. Übrigens hat die Band eine sehr schön gestaltete Homepage, also mal hinsurfen: www.reflection-metal.de. (A.P.)

REFUSED - Songs To Fan The Flames Of Discontent

Erstveröffentlichung: CD / We Bite Records / SPV

REFUSED ist eine Band, die sich 1991 im nördlichen Land der Schweden gegründet hat und seitdem kontinuierlich dem Erfolg entgegenarbeitete. Mehrere Veröffentlichungen auf CD und Vinyl sowie die bislang beste Veröffentlichung "This Just Might Be...The Truth" (besprochen im Back Again 3) haben die Band auch jenseits des großen Wassers bekannt werden lassen. Dieses Mal bringen sie uns ihre brandneue CD "Songs To Fan The Flames Of Discontent" und sie ist straighter und kraftvoller produziert als ihr Vorgänger, doch wie gewohnt gut gespielter Hardcore-Metal, der Fans dieses Genres eine prima CD zum Kaufen in die Läden bringt. Also bitte zugreifen!!! (H.H.)


[

ZURUECK

]