IN CAMERA - Interview January 2016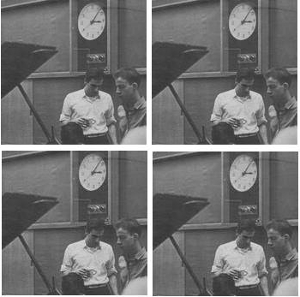 "We were always good for a smile..." - The original Post Punk of IN CAMERA

Post Punk sound has a small revival since a few years. A lot of new bands, coming from all over the world, present their love of the early 80s sound between darker New Wave and not so openly aggressive Punk. The music developed in the late 70s with bands like Public Image Ltd., Wire and Joy Division. Factory Records was a very influential label then, but in my opinion, the most consequent Post Punk came from the early 4AD label around 1980/1981. Simply EVERY record from this period was a collectible masterpiece and some had big influence on other bands, for example the brilliant 12" by Rema Rema, some Wire side projects and early The Wolfgang Press.

Another of the very early 4AD-acts in 1980 was IN CAMERA. I firstly noticed this band in the late 80s, when I bought the legendary "Lonely Is An Eyesore"-Compilation. The record had an insert with the then full 4AD release catalogue and it became instantly a wantlist for me. In these days without the Internet, it was not easy to find older records, so I visited many flea markets and record fairs and some day, I found the "Fin"-12" and later on the "IV Songs"-EP and the "Final Achievement"-7" and fell in love with this sound. In the mid 90s I tried to force the sound of my then actual band Awake At The Wall into this moody direction, but it came to nothing. In 1992 the three records of IN CAMERA were re-released on CD by 4AD, including some new bonustracks and then...silence again. In 2011 the label Desire Records re-released "IV Songs" and "Final Achievement" on LP and finally in 2015 4AD put out the ultimate IN CAMERA-collection "Era" on Double-LP and Double-CD with all the classic recordings plus demos and live material.

The World Wide Web often is a boring piece of shit, but sometimes, it also is a wonderful source for information. I was lucky to get in contact with Pete Moore of IN CAMERA, who played the bass in the band, and he is a really nice guy, so the idea grew, to interview him about his influential band to find out a bit more. He was so kind, to answer my questions in early 2016 for a publication on Back Again Webzine.

And then...nothing. I lost the hard disk, which contained the E-Mails with the conversation, by a headcrash and was not able to work on the interview any longer. Due to other (health) problems, I didn´t contact Pete again and it seemed, that was it. Now, about 20 months later, a friend was able to restore parts of the broken hard disk and I rediscovered the interview, so: here it is! Sorry to Pete for being so late with it!

But now find out more about one of the original Post Punk bands and one of my personal all time favourites...IN CAMERA!


Back Again (BA): First of all…how did it all start with IN CAMERA? Have there been bands before with IN CAMERA members?

Pete Moore /In Camera (PM): The seeds of In Camera were originally sown by David Steiner, and the initial line-up didn´t include bass, just a drummer called Pip and a guitarist, Rod. After Jeff Wilmott (not yet a member of the band) struck up conversation with myself in the West End, I ended going down to Stratford East, London, to meet David Steiner and audition. I´d never picked up bass before and David had an old second-hand Hofner Artiste, which I took to immediately...it just felt so natural to play, so right! After the audition, David wanted me in the band - he liked my speed and conviction - but Rod & Pip weren´t so sure. Eventually Rod came round to the idea it would be beneficial, so I was in. I believe we only did one gig (where a full-scale fight broke out in the audience during the second number) before Pip vacated the drum stool, to be replaced by Walthamstow boy Derwent. Then soon after that, Rod flew the coop to work full-time for the Post Office (!), and so we placed an ad in Melody Maker for a guitarist. We had a day of auditions, all of them hopeless, until finally at the end of the day Andrew Gray pitched up with his brother Steve. Andrew was perfect, knew where we were coming from and slotted in like there was no tomorrow. We did a few local gigs, but Derwent was not working out, his style too busy and ´rock´ based, at odds with the direction we were heading. Andrew felt this strongly, and it was a case of ´him or me´, so it was a no brainer: Derwent had to go and fortunately decided to anyway. Jeff Wilmott had tried drums in another band who were mates of his, but their bass player got killed by a hit & run driver, so that band folded. We were aware of his style and invited him to join (he´d seen us live and knew Derwent was wrong for our sound), an offer he accepted immediately, and the match was made...the last piece of the puzzle. In Camera were now whole and ready to roll.


BA: Can you give us an impression about the social background, you are coming from? How did you come in contact with Punk/New Wave?

PM: England was so different in the mid 70´s compared to now...unrecognisable in some respects, particularly London in all its pre-gentrified glory; it had so much more character then. Jeff and David were East End London boys, solid working class, Andrew from South London and also working class. I originally came from Portsmouth on the South coast and first moved to London when I was 18. I guess I was lower middle-class, but I´ve never judged anyone by their class, only their personality & character, so I had no problem being the only white boy/punk at the time living in Railton Road in Brixton, South London. I just took people as they came. My first punk gig was when I was still living at home, seeing Subway Sect supporting The Clash at Guilford Civic Hall in March 1977 and just the whole energy and vibe was really out there, including the audience, and it was unlike any gig I´d been to before...and I´d been to many. The Sex Pistols/Bill Grundy tv spectacle just started the whole ball running and so the UK began to morph and evolve into a different social landscape altogether. Prior to punk, In Camera all listened to a real variety of sounds, from glam-rock to BHM to Bowie to funk/disco and me personally, a lot of the classic mid 70´s German bands: Faust, Can, Amon Düül II, Neu!, Kraftwerk. But punk/post-punk was such a uniting musical movement, it made a tribe out of us all...we became a gang.


BA: How did you come in contact with 4 AD, who were at their very beginning? And what expected you by signing on such a (then) small label? Have you been in contact with other labels – maybe Factory?

PM: We´d never been in touch with other labels prior to 4AD, who were then called Axis Records. Jeff Wilmott had met an Australian promoter who´d seen us play at The Bridgehouse in Canning Town in London´s East End and wanted to put us on a bill with Bauhaus at this tiny venue called Billy´s in London´s Soho district. Billy´s was an ex strip-club, set in a basement with low lighting (red) a few tables and a small stage. Bauhaus were with Axis/4AD and so Peter Kent and Ivo Watts-Russell were in the audience, as was Jah Wobble. In Camera played an incendiary set that night and afterwards Ivo & Peter came backstage and asked if we´d like to make a record or two or three... They both seemed non-corporate and genuine and so we said ´yes, that would be very nice thank-you!´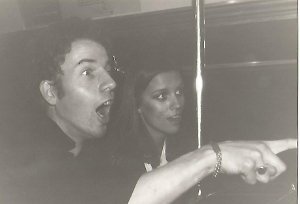 BA: The artwork of the first 7" "Die Laughing/Final Achievement" was very minimalistic…well…reminding of the concept of Factory Records. Was the artwork the idea of the band or was it made by 4 AD?

PM: All the artwork was our idea. We liked the thought of stripping everything down, giving little away, letting the music speak for itself with no peripheral distractions. Andrew Gray was into photography as well and so had a keen eye fordesign and the visual side of things.


BA: How big was the influence of producer John Fryer on the recordings?

PM: I wouldn´t say John Fryer´s influence was big, but he had a very sympathetic ear and understood where our musical ideals were coming from. He appreciated our independence and knew the atmosphere that we wanted to create, and alongside engineer Eric Radcliffe certainly did a great job on the first two releases. Blackwing Studios at that time was really a rehearsal space with an 8 track recording studio tagged on the end of the building, which was in fact an old church.


BA: I once described the sound of the 7" as "somewhere between early Section 25, Rema-Rema and PIL with some Joy Division influences" and as "subliminal aggression combined with desolation"…what have been your aims with the band? What did influence you, when starting the band? Other art? Movies?

PM: Well, as much as we dislike comparisons with other bands, those bands were certainly favourites of ours, but we also loved The Slits, This Heat, A Certain Ratio, The Pop Group, Magazine, Throbbing Gristle etc. Films were also a major influence on us, soundtrack composers such as Lalo Schifrin, John Barry, Ennio Morricone, Bernard Hermann and John Carpenter were as important to us as contemporary artists. Schifrin´s score for the film "Dirty Harry" is something else! We were all film fanatics and our taste was as broad as it was wide, anything from the French New Wave to the new German movement, Fellini, Passolini, Antonioni, Polanski, Cocteau, Lynch, U.S. independents, underground, cult, exploitation.....you name it, we were into it! Oh yeah, and we read a lot of literature as well. Yes, your description fits our sound well, and I believe our aims were to forge our own path completely independently, without being moulded into something we weren´t. Our sound was very organic, many tracks starting with a bass line and evolving from there. We were a democratic band as well, everyone´s opinion valid & considered. Song writing credits were always to In Camera as a whole, even though myself and David wrote all the words; we were a very unified unit!


BA: Was "IV Songs" only another record of the same kind as the 7" or how would you describe the development?

PM: "IV Songs" was different in that it was probably more about atmospheres, the film influence creeping in more. The track "The Conversation" probably conveys this best, but also "Fragments of Fear", which to me has a stripped down approach to a ´disco groove´ with Andrew´s guitar adding the appropriate solitary vibe, the song itself being about urban paranoia; listen to Andrew´s guitar at the end of the middle eight where it sounds like a ship´s fog horn. I always thought of Andrew as the anti-guitar guitarist, if that makes sense. His work on the track Legion is fabulous.


BA: Did you play live regularly and which other bands did you meet? Any funny or in other way interesting stories, which you now can tell after more than 35 years? How can we imagine your live show?

PM: Our live show was like our studio work in as much as it was stark, to the point, full of attitude and energy. We used minimal blue & white lighting, came on stage to a Neu! track, barely talked between numbers and didn´t really acknowledge the audience. We played our instruments hard (you can hear this on the live Marquee tracks on "Era") and just tried to sonically give out as much as we could. We gigged fairly regularly, doing shows with Bauhaus, Modern English, The Transmitters and our friends MASS, whose sound we loved and felt a strong affinity with. We also did a gig with both The Birthday Party and The Psychedelic Furs
We only played as far North as Manchester. But we were a band with a great sense of humour also and we´d be constantly horsing around. To get to gigs, we had a shitty old Ford Transit that we hated and was falling to bits. It never bloody started! When the windscreen wipers were turned off they´d keep going, so David and Jeff took turns to lean out the window and hold them down to make them stop. On the way up to Manchester to do a gig with MASS, Peter Kent and MASS overtook us on the motorway, so David promptly did a ´moony´ out the van´s window which had everyone in stitches, including MASS. So much of what we did was spontaneous. We sometimes took a few good friends on our travels, a small tight-knit group, people we´d known for a while, and so there was always a sense of camaraderie amongst us. Our sound and words may have been stark and brutal, but we were always good for a smile.


BA: Have you been in contact with other bands of 4 AD and have there been ideas of collaborations? Still in contact with some of them?

PM: The only real contact has been with the Rema-Rema/MASS gang. After In Camera splintered, Andrew went on to form The Wolfgang Press with Michael Allen & Mark Cox, and has also done work with Gary Asquith. TWP did a tour with The Pixies at the start of the 90´s and I was TWP´s tour manager for that. David Steiner played drums on a track off the first TWP album also.


BA: Can you tell a bit about your connection to legendary John Peel and how can we imagine the production of a Peel Session?

PM: I think it was John Walters, John Peel´s producer, who put us in touch with Peel, although we never met him as he was rarely present at the recordings for his shows. So we arrived at the BBC Studios, Maida Vale, only to find that the ´producer´ who was assigned to the session was a complete asshole. He wanted to mould our sound into something that wasn´t us, wanted to take over sonically & was arrogant with it. Naturally, we were going to have nothing to do with this and an almighty argument broke out between him and David Steiner, with the producer stalking out of the studio like a petulant child, leaving us (thankfully) to get on with the session using just the engineer, who was terrific. So there´s a lot of angry energy in those three tracks, but fortunately in the end they worked out exactly as we wanted them to. The irony though is that when they were first aired on John Peel´s show, the stupid ass-clown of a producer was credited for the session when he wasn´t even there!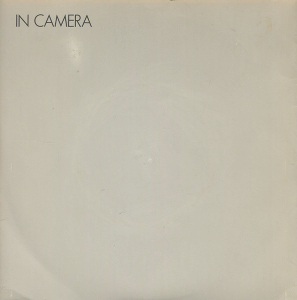 BA: How did it come to the "Era" release? Was it an idea of the band or did 4 AD contact you. How did you choose the unreleased tracks and is there any more unreleased material? If yes, any chance to listen to it some day…possibly as digital-only release?

PM: 4AD had the idea to put out selected product by bands from the early days of the label. We were one of the first to be considered and jumped at the chance. The design was what one could call a co-production, but 4AD were brilliant and supportive as far as getting "Era" complete and then promoting it. Ideas were gestating from a while back and In Camera spent some time considering what would look best in relation to our sound. Andrew Gray had some of the photos that were used, most of which were taken on the day of the John Peel session. He also discovered the ´lost´ rehearsal tape of the tracks recorded in Brixton. I had bootlegs of The Scala Cinema gig and the Marquee gig, the former downloaded from a French site, the latter transferred from a very rough tape that David Steiner gave to me many years ago (with two Rema-Rema tracks on the b.side). The Marquee tracks needed a lot of work on them as they had been recorded on a Sony Walkman with fading batteries, so we had to sort out the speed of the tracks when transferring them to disk. The one track that couldn´t be included on "Era" was an early number called "Primitive Training", which unfortunately had been wiped from the "Scars/Apocalypse" demo; it was one of mine & David Steiner´s favourite tracks. The only other bootleg I have is a recording from a very early In Camera gig at The Bridgehouse in Canning Town, East London, but the quality is atrocious, too bad for anyone´s ears outside of the band....the sound is overloaded, so it´s mega-distorted, particularly the bass, drowning out the dynamics, the acoustics all over the place. It does however contain "Primitive Training", but we feel none of it is good enough to let loose. "Fragments Of Fear" and "Coordinates", from the Marquee gig, have both been put on the In Camera facebook page and are on Youtube.


BA: How did IN CAMERA come to its end?

PM: I guess we just fragmented for a number of reasons. 4AD had mentioned the possibility of an album, but Andrew and David thought we didn´t have enough material. Andrew was also paranoid about our sound being compromised by a producer (perhaps he´d been put off by the experience at the start of the Peel session). Jeff wanted to spread his wings outside of drumming, primarily using synths & keyboards. I was happy to keep In Camera going and experiment with other instruments (I´d just bought a tenor sax and bits & pieces of percussion). And so we just had one last rehearsal, then went our seperate ways. I still feel we should have attempted an album, but it was not to be.


BA: Have the band members been in other bands after the split and are there any releases? What are you doing today? Are you still in contact with the others?

PM: Andrew Gray was of course in The Wolfgang Press for a number of years and since then has dabbled in solo work and independent projects. David Steiner (aka Scinto) is a script writer and co-wrote the film "Sexy Beast". He also recorded a music project that never saw the light of day. Jeff lives in Florida and is a successful computer consultant. I work part-time in Brighton where I live and am always writing. As regards music, back in 2005 myself and three other guys I knew formed a psych-rock band called Thee Lord John and recorded an album´s worth of mainly instrumental tracks which we were going to release independently. But after three years of overdubs and countless mixes, the band folded. I still have the album which is complete and one day would like to put it out; a couple of tracks can be found on Youtube. We never did any gigs though, which was a shame. In Camera keep in touch by email and phone as we now all live in seperate cities, though in 2014 Jeff Wilmott came over to the UK and we all met up for a day, mainly to discuss the release of "Era"; it was the first time we´d all been together since the early 90´s.


BA: Why do you think, IN CAMERA is not forgotten today and how important is the internet for the band today? Re-union?

PM: I doubt there will ever be a musical re-union, certainly not to play live. I´d be happy to do studio work again, but with Jeff living in the U.S.A it wouldn´t be easy and it really would have to include all four members. I think we are still acknowledged in 2016 because our sound doesn´t rely on any easy labels and our approach to playing was fairly unique. Yes, you can group us in with the Post Punk movement, but I feel all the relevant bands from that era (!) had their own individual sound and I believe that´s what made that movement so special. The internet is good in as much as we can put our sounds out there as well as having a traditional release ("Era"); it gives independent units a platform to be heard, to be discovered.


BA: How would the band sound today? And what do you think about the little New Wave revival with bands like Editors, Interpol and others in the last years?

PM: I´ve absolutely no idea how we would sound today...possibly more experimental, exploring different sonic outlets, though it´s hard to say. Well, there´s always a revival of sounds from yesteryear, but the thing is, In Camera and all the other bands from that time were informed as much by the social situation and its surroundings as we were by any musical influences. With In Camera we were basically newborns with our instruments and I think that´s what made the sounds from that period so special: everyone had such an individual approach to what they played because it was so new, so fresh. Punk and Post Punk gave the youth of the day equal opportunities to explore the musical landscape. It´s something that has informed all our lives to this day and made us the people we are.


BA: Looking back 35 years…what means IN CAMERA to you today?

PM: To put it simply, we are still all very passionate about In Camera and its legacy and we were seriously proud when "Era" was released in 2015....it was the like the album that should have been, only 35 years later!


BA: David Bowie passed away some days ago (editor: the interview was don in January 2016)…how important has he been for In Camera´s musical development and for you personally?

PM: How can one person mean so much to so many! We are all extremely sad and surprised at Bowie´s passing. He inspired so much in us and we grew up from an early age experiencing his most classic period, which is mainly the 70´s, where he didn´t put a foot wrong. His influence stretched far & wide, in as much as he ignited so many people´s desire to do their own thing, be an individual and take chances, both visually and musically. His birthday was on the same day as mine, and that always felt special to me. Andrew Gray saw all three nights at Wembley Arena during the "Thin White Duke"-tour in 1976, and I am seriously jealous of that! I, and I think most people, feel there is a gap left in the world now he is no longer with us, but what a fantastic legacy he has left behind. When I found out he´d died I played all his albums on rotation for a week and just marvelled at the variety, the arrangements, the words, the production and the atmospheres and emotions that they conveyed. Musically, he is a true hero and will be missed by many for a very long time; there will never be another individual like him.


BA: Anything I forgot to ask or anything you want to add?

PM: Not really, you´ve covered a lot of ground with your questions. I´d just like to say on behalf of In Camera a big thank-you to anyone who has supported us over the years, 4AD, the people who bought our original releases and came to our gigs, those who purchased "Era" last year and anyone who has logged on to the In Camera Facebook page or posted tracks on Youtube. Keep flying the flag...it means a lot to us! (A.P.)

Webadresse der Band:
www.facebook.com/In-Camera-Official-153105771442571/